There are many more animals than there are homes and in a small shelter the number of impounded animals can double in hours, taking the shelter from half empty to overflowing. Grant County Animal Outreach believes that every adoptable animal deserves a forever home. All animals are held for seventy-two (72) hours before becoming eligible for adoption. This allows time for possible owners to come forward and claim the animal and for the Shelter Team to assess the animal's health and temperament. There is no time limit on how long an animal remains available for adoption, however, there is a limit on how many animals that can be held at the shelter at one time and space becomes crucial when an animal becomes eligible for its turn on the adoption floor and the adoption floor is full.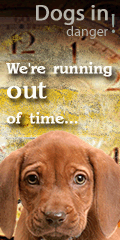 The Shelter Team works tirelessly networking with legitimate rescue organizations to place adoptable animals in safe havens where they will have more time to find a forever home. These organizations can be private or public and contribute greatly to help reduce euthanasia. Animal rescue is a fast growing effort, with millions of animal lovers across the world vocalizing the importance of animal caretaking by humans.
Unfortunately, there are times when there are too many animals and not enough homes or rescues to place them all. When this occurs. You can help decrease euthanasia by being a responsible pet owner. Always spay or neuter your pets. When you choose to add a pet to your family, adopt from a shelter or rescue. Be sure your pet has tags and microchip to ensure its safe return in the event it becomes lost. And last but not least, support our efforts. Volunteer. Donate. Adopt.
If you are interested in helping rescue efforts by becoming a Rescue Runner and transporting shelter pets to rescue, please read the volunteer page. Transport reimbursement is available on a limited basis. Rescue Runner Routes are primarily Ellensburg, North Bend and Seattle. The number of animals in each transport varies and you can be specific to what kind of animal you are willing to transport.
If you are a legitimate rescue organization and would like to assist the Moses Lake Animal Shelter please contact the Shelter Administrator/Rescue Coordinator, Carmon Derting at 509-762-9616 or gcanimaloutreach@hotmail.com. All shelter pets are up to date on vaccines. Behavior testing and personality assessments are available and the Shelter Team would be happy to provide additional pictures upon request. If altering is required before transport, a $65.00 minimum donation is requested for each animal.